NEBOSH IGC Course Details
The National Examination Board in Occupational Safety and Health (NEBOSH) is an UK based Board found in 1979, provides a numerous education program in which NEBOSH IGC is the most admired and wanted course by a number of people and HSE professionals. NEBOSH IGC (International General Certificate) qualification gives the opportunity to become a safety professional, a valuable employee in any company. The role of safety officer is to ensure safety in workplace i.e. they should follow and monitor all the protocols, policies & other measures. In order to become a safety officer/ Advisor/ Superintendent etc. This NEBOSH IGC gives the best platform. The NEBOSH IGC course syllabus is set out to sustain in all the industrial fields.
NEBOSH IGC Syllabus
The NEBOSH board has introduced a new syllabus module for the NEBOSH IGC course that has two units such as,
IG1 – Management of Health & Safety
IG2 – Risk Assessment
This new syllabus module gives a wide range of benefits for the employees and organization to recognize and control the workplace health & safety issues by advanced preventive measures to evaluate the risk factors with proper justification based on the international HSE morals and regulations.
Syllabus Summary
1. Why we should manage workplace health and safety
2. How health and safety management systems work and what they look like
3. Managing risk – understanding people and processes
4. Health and safety monitoring and measuring
Assessment
 Online Open Book Exam (OBE)

Unit IG1: Management of health and safety
5. Physical and psychological health
6. Musculoskeletal health
7. Chemical and biological agents
8. General workplace issues
9. Work equipment
10.Fire
11.Electricity
Assessment
Practical assessment
Unit IG2: Risk assessment
Mode of Assessment
Also, NEBOSH has introduced a new mode of assessment for "International General Certificate" qualification which is an "Open Book Examination" conducted via online platform. In this mode of exam, candidates can refer their course materials and e-books during the exam while the answer should be in own words based on their underpinning health and safety knowledge.
NEBOSH has set 24 hours time frame for learners based on British Standard Time (BST) to submit assessment files in NEBOSH's exam portal. Although, learners may complete the exam with 4-5 hours within the given time frame.
Please Note:
The NEBOSH has discontinued the use of command words in the NEBOSH IGC exam

Students cannot use their previous (Old Syllabus) credits in the new syllabus

If anyone wants to study the new syllabus of NEBOSH IGC they have to study both the units (IG1 & IG2)
Nebosh IGC Exam Pattern:
NEBOSH IGC contains 3 units in which 2 units are of theories which will be conducted by the British Council. The 3rd unit is practical assessment and it should be submitted to the NEBOSH course provider.
IGC 1 (Theory)
GC 2 (Theory)
GC 3 (Practical Assessment)
IGC 1: MANAGEMENT OF INTERNATIONAL HEALTH AND SAFETY.
This NEBOSH IGC 1 unit covers the basic foundation of health and safety, the first and foremost thing is to PLAN, how and what should be done, the second thing is to DO, is what should be i implemented according to the plan, the third thing is to CHECK, the plan executed efficiently or not. The final thing is to ACT, whether the previous steps are been followed properly. This paper provides the full awareness about safety, health and management.
This paper contains 5 Elements:
Foundations in Health and Safety
Health and Safety Management Systems – Plan
Health and Safety Management Systems – Do
Health and Safety Management Systems – Check
Health and Safety Management Systems – Act
The passing criteria for this Unit is minimum 45 out of 100 which contains 8 no's of 10 mark questions, 2 no's of 20 mark questions.
GC 2: CONTROL OF INTERNATIONAL WORKPLACE HAZADS
"Hazard is anything that has the potential to cause harm". This NEBOSH GC 2 unit involves in the concept of hazard and its types in various field. Hazards may be of electricity, chemical, Mining, Ergonomics, Physical, Psychological etc. and its tackling methods to overcome them which contains 8 major elements which are as follows,
Workplace Hazards and Risk Control.
Transport Hazard and Risk Control.
Musculoskeletal Hazards and Risk Control.
Work Equipment Hazard and Risk Control.
Electrical Safety. Ex. Electric shock, fault current, improper grounding may leads to risk and this may be overcome by regular inspection, using insulating materials like gloves, suits may be used.
Fire Safety.
Chemical and Biological Hazards and Risk Control. Ex. Acids used for cleaning and some gases like helium, acetylene when exposed unfortunately may leads to lung damage or allergic conditions.
Physical, Physicological Hazards and Risk Control.
These 8 elements are covered in GC2 Unit which consists of 8 No. of 10 mark questions, 1 no of 20 mark questions.
The passing criteria for this paper is minimum 45 out of 100 alike IGC 1.
GC 3: HEALTH AND SAFETY PRACTICAL APPLICATION
This NEBOSH GC 3 is a practical assessment paper in which the candidate must prepare a report on the basis of real time scenario of any industries like oil and gas, construction company or any kind of industry and analyze on the work done with the knowledge gained in IGC1, GC2 and submit the report to the NEBOSH IGC course provider in which the 60 marks is minimum criteria to get pass.
If the Total score (i.e. all total marks of IGC1, GC2 & IGC3) is 180 out of 300, the candidate will be considered as "Passed with credit."
If the Total score is 210 and above out of 300, the candidate will be considered as "Passed with distinction."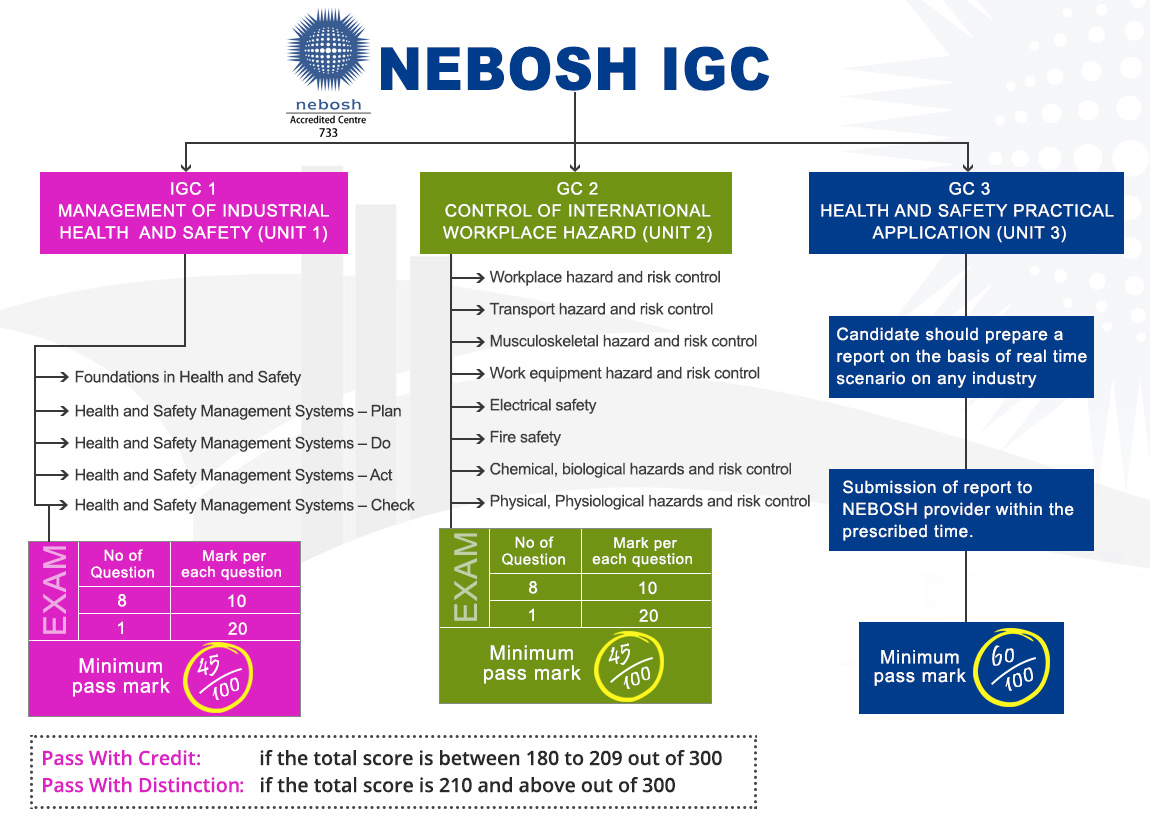 CAN'T FIND WHAT YOU ARE LOOKING!
Get Your Query Answered / Get Expert Assistance To Choose the Right Course for You Or Your Associates