Green World Group
Dangerous Substance and Explosive Atmosphere Regulations – DSEAR
Our highly competent health & safety experts will help you to conduct a full-scale safety audit to catalogue dangerous substances across your workplace, as well as the hazards they present. We do test for presence of various hazardous gases / microorganisms in suspension / microbiological test / total bacterial count / total coliforms / fecal coliforms / Escherichia coli / Legionella bacteria etc.
Our DSEAR risk assessments include:
Full site risk assessment

Identification of dangerous substances that may apply under DSEAR

Hazardous Area Classification drawings (if required)

Advice on area signage, labelling requirements and control measures

Guidance on equipment and protective systems

Basis of Safety for each site process

A prioritized & realistic action plan to mitigate any risks

Follow-on support such as bespoke DSEAR training courses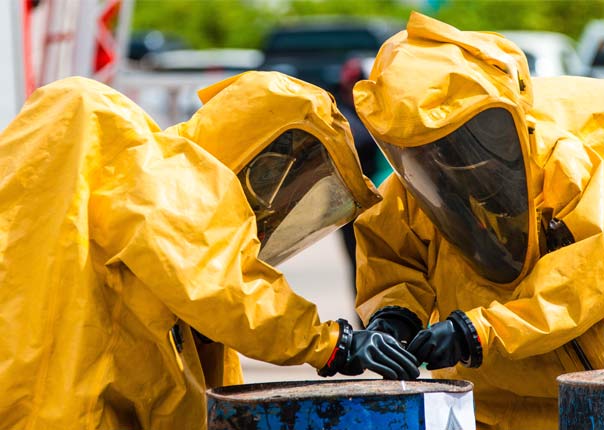 Green World's DSEAR qualified health and safety consultants are here to carry out a DSEAR risk assessment for you, ensuring you gain peace of mind knowing that you are compliant when it comes to DSEAR legislation.
FAQ
What is DSEAR?
DSEAR stands for the Dangerous Substances and Explosive Atmospheres Regulations 2002 and is a risk assessment. Dangerous substances can put people's safety at risk from fire, explosion, and metal corrosion. DSEAR sets duties on employers and workers to save people from these risks to their safety in the workplace and the public who may be put at risk by work activity.
When undertaking a DSEAR Assessment, the following 'how likely' questions are usually asked:
who could be hurt,
how severely, and
What can be done to prevent it?
What areas are considered under DSEAR?
A DSEAR assessment defines a place where potentially explosive atmospheres may or may not occur. By defining an explosive atmosphere as a hazardous zone, employers can create special safeguards to protect businesses, people, the workplace, and the environment. A Hazardous Area Classification is used to identify these places and areas whereby control measures must be put in place (if necessary). Therefore, these classifications are an integral part of the DSEAR risk assessment.
How often should a DSEAR risk assessment be undertaken?
A DSEAR assessment should be constantly reviewed if you believe your current DSEAR may be invalid. Although this could include the standardised 3-5 year time frame, it is recommended that a risk assessment review should occur if you have recently had a near miss or if you have made minor changes to your process.
How can Green World Consultant support you with DSEAR?
Our consultants holistically undertake DSEAR assessments and Hazardous Area Classifications to cover employees and non-employees globally. Through our actionable insights, we determine what practicable recommendations should be made for your company to optimize safety and reduce the level of risk to people, business, workplaces, and the environment.
Considering the challenges virtual training has, Mr. Varun really excelled at keeping everyone engaged, without causing fatigue. This class was still effective and very informative. Trainer was excellent, well informed, engaging, patient, and even funny at times.
Manager – IHM and Consultancy Division
Green world have shown absolute professionalism in providing end-to-end solution by providing qualified HSE manpower for our shutdown and maintenance projects and ensured that business continuity is maintained in the most critical time. A delight to work with such a wonderful team. All the very best.
EHS Specialist – SIEMENS LLC, Dubai, UAE
It is always a pleasure for Vanderlande to work and get associated with Green World Group. The team is extremely supportive and has always catered to all the training requirements of Vanderlande. Green World Group is very reliable and ensures to provide excellent quality of trainings with highly qualified trainers. We are truly happy to be associated with GWG.
Sr. Lead- Learning and Development, Team HR
Vanderlande
Our recent projects
Our recent projects
Green World has now evolved into a strategic market player for staffing solutions on turnkey HSE projects across MENA and Pan-India. Our HSE culture is built on trust, service delivery, and safeguarding the well-being of our people, communities, and environment.
Need to know more?
Call Us
We are committed to understanding the needs of our clients and offering appropriate solutions with high quality delivery. We believe that effective and proportionate management of Health Safety & the Environment can lead to significant business benefits as well as being the right thing to do