NEBOSH International General Certificate (NEBOSH IGC)
NEBOSH IGC stands for the National Examination Board in Occupational Safety and Health (NEBOSH) International General Certificate (IGC). It is a globally recognized health and safety qualification and is requisite for those who want a successful career in Health & Safety.
NEBOSH IGC is a job-oriented level-3 certificate developed by the UK-based independent examination board that provides a comprehensive understanding of occupational safety and health principles and practices.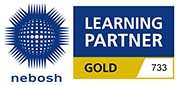 Certified NEBOSH Gold Learning Partner  & the institute has delivered 1442+ NEBOSH training Batches
NEBOSH IGC Certification is recognized by professional bodies such as IOSH, IIRSM & IEMA, hence the candidate holder can become eligible to apply for Tech IOSH, MIIRSM, and later after the progression studies to NEBOSH International Diploma can apply for Grad IOSH, and Chartered status CMIOSH.
NEBOSH IGC Course Details
The NEBOSH IGC covers various aspects of occupational safety and health, such as hazard identification and control, workplace safety, fire safety, environmental management, and more. It has two units (IG 1 & IG 2) and covers 11 elements
Unit IG1 – Management of Health and Safety
Why we should manage workplace health and safety
How health and safety management systems
Managing risk – understanding people and processes
Health and safety monitoring and measuring
Assessment: Online Open Boom Examination
Unit IG2 – Risk Assessment
5. Physical and psychological health
6. Musculoskeletal health
7. Chemical and biological agents
8. General workplace issues
9. Work equipment 10. Fire 11. Electricity
Assessment: Practical Assessment
NEBOSH IGC Course Fees & Duration Details
| Course / Batch | Start Date | End Date |
| --- | --- | --- |
| NEBOSH IGC (Sunday Batch) | 09th Apr'23 | 28th May'23 |
| NEBOSH IGC (Evening Batch) | 20th Mar'23 | 27th Mar'23 |
| NEBOSH IGC (Evening Batch) | 27th Mar'23 | 27th Apr'23 |
| NEBOSH IGC (Evening Batch) | 03rd Apr'23 | 04th May'23 |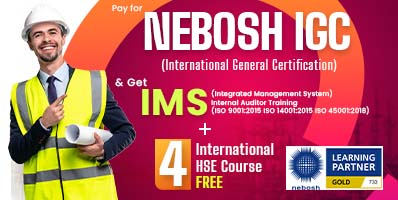 CAN'T FIND WHAT YOU ARE LOOKING!
Get Your Query Answered / Get Counselor Assistance To Choose the Right Course for You Or Your Associates
NEBOSH IGC Fees
NEBOSH IGC course fees may vary depending on several factors such as location, training provider, mode of study, and other factors. It's best to check with our academic counselor for accurate information on fees.
How can I study NEBOSH IGC?
We delivered the NEBOSH IGC training course in a tutor-led Live Online / Virtual Training at their convenient location, time, and place.
NEBOSH IGC Online Course Training
When you are at work 'or' want to study Live Classes from a Remote location 'or' can't find regular time to study i.e., you have a busy schedule, then you can prefer our Online Education (via virtual class).
Our Nebosh Certificate Online Live Training via interactive web platform is provided in such a way that student gets a perfect learning experience which is delivered in the blend of Online Live Class and e-learning format, as the Online Live Classes are undertaken by the Qualified Tutor who delivers face to face regular classroom Nebosh Training; Hence students benefit the required skills and Knowledge for Nebosh qualification similar to the classroom training.
Students will be provided with course materials, with NEBOSH IGC e-learning access where students can download study material, Interactive learning videos, tutor support, etc.
Benefits of Online NEBOSH IGC Training

Opt for people with busy schedule

Cost effective Quality education

Learn when ever & where ever you need

Easy structured program with teaching methods

Course offered at distance cum online format
NEBOSH IGC Course Training in Your Workplace
We provide training from our expert tutor for the company employees at their place & dates of their choice. This can be very effective in a training group of employees & their industry-specific knowledge can be met accordingly; This type of learning saves time, and as well allow students to be in touch with work.
Our expert trainers focus on sustainability and environmental responsibility and provide your employees with the knowledge and tools necessary to maintain a safe workplace. A company doesn't have to pay for travel, accommodations, or other expenses for sending employees to external training sessions.
We will arrange written exams at the nearest British Council from the Workplace.

Why in your work place

One to one interaction

Coaching from expert tutor

Cost effective for group learners

Company specific discussion & learning

Allow candidate to keep In touch with work
NEBOSH IGC Course in Training Centre
We have sophisticated training venues with state of art learning ambience keep you rid of any distraction, and make you concentrate on studies
The Classroom Training from our expert tutors who are well experienced enabling you to understand the concept at a simple manner.
Regular mock exams will be taken at the training session.
You will receive complete knowledge as well as career guidance from our NEBOSH-approved tutors in order to enhance your career in health and safety.
Why Our NEBOSH Safety Training Institute?
Never Before!!!… NEBOSH IGC Effective Learning Experience…
Guaranteed Results!!!…

Live Class from Expert Tutor with Realistic Case Studies & Intriguing Visuals

Evening Session (Monday to Thursday) – 28 days for each ID1, ID2 & ID3 units

Int'l standard material, Cost-effective & Exclusive Bundle Course Packages

Multimedia Courseware in a Separate E-learning Platform with Live/ Virtual Contact Class

Study Whenever Whereever & can revise through On-the-go Live Recorded Videos

Innovative Learner Friendly Dual Interactive Live Online Learning Platform

Collaborative Activities like Group Exercises and Mock Assessment Sessions

Exclusive Preparation Guidance Webinar Session for Open Book Examination
Why NEBOSH IGC Course in Green World Group?
Study at your Place – Live online classes on weekends and regular evening sessions in a sophisticated web platform including Final Assessment – Online Open Book Examination (OBE).

Interactive Virtual Session – Face-to-Face live interactive training session between learners and tutor similar to a classroom environment.

Wide Range of E-Resources – Exhaustive multimedia learning material with audio-lectured voice and live recorded video for sessions missed in the resource library section.

Unlimited Training – Provide unlimited training until you pass the examination with international standards and 24*7 access to e-learning resources.

Industry-Oriented Exercises – Enhancing your knowledge and skills with examples of real-time workplace scenarios in line with the subject of each session.

Personalized Support from Experts – Get extended support from tutors as well as the administration team during the training period, and until the certification process is completed.
NEBOSH IGC is suitable for managers, supervisors, and employees in all types of organizations who need a broad understanding of health and safety issues to manage risks effectively. It is a respected qualification among employers worldwide, and achieving it can improve job prospects and career advancement opportunities.